Up until mid-May, 21-year-old Emmanuel Tolentine of Scotch Plains, New Jersey worked as a cashier at QuickChek — a job he says was less than satisfying.
"I was ready to get out of there, honestly," he says. "Everyone was so rude. It's crazy."
Now he's finishing up a two-week trial run with Asbury Park-based solar energy developer Solar Landscape, which just launched its free virtual jobs training program on May 1. The state-mandated wage for one of Solar Landscape's solar panel installers, the gig Tolentine is on track to get, is $63 an hour.
"When I heard that, I was like, 'What am I scanning people's stuff for?'" Tolentine says.
So far, Tolentine is one of 68 students who have passed through Solar Landscape's 40-hour online training program, which is offered on a rolling basis. The company aims to train 120 students by the end of the year, and hire 20 of those students to support its participation in New Jersey's statewide community solar initiative, currently in its pilot phase.
The community solar program, which announced its approved projects in December 2019, allows for selected developers to create projects that specifically serve households with low-to-moderate incomes.
The community solar model is designed to make solar power accessible to those who are unable to install panels on their own roofs — whether that's because they rent, can't afford roof repairs, or don't live in a sunny area. Instead, households purchase subscriptions to off-site solar arrays and in return, receive credits on their electricity bills for providing clean power to the grid.
The state granted Solar Landscape eight projects on industrial buildings throughout New Jersey, totaling 20 megawatts out of 75 megawatts total allocated for the first year of the initiative.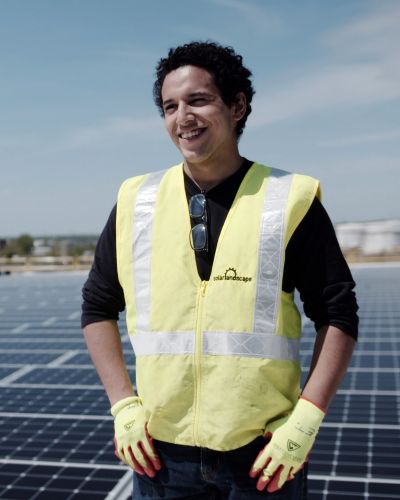 Solar Landscape scored so many projects "because of our promise and pledge to community involvement with nonprofit organizations along the way," Katelyn Gold, Solar Landscape's director of jobs training, says. "Wherever the actual construction was going to be done for community solar, they thought it would be really cool if their community was also involved in learning how to do solar and then also installing it in those towns."
Solar Landscape's first few community solar projects will be in Perth Amboy. Solar Landscape also has been leaning on its nonprofit and faith-based partners in the area, including Interfaith Neighbors of Asbury Park, Isles of Trenton and Jewish Renaissance Foundation, to identify young people in surrounding communities who would be interested in training to install the solar arrays.
Emmanuel Tolentine (Photo courtesy Solar Landscape)
But Solar Landscape's primary partner has been Edison Job Corps, a technical training program based in Edison, which is near Perth Amboy. The program is administered by the U.S. Department of Labor and prepares 16 to 24 year-olds from low-income backgrounds for employment and financial independence.
Edison Job Corps was eager to recommend its students who were interested in renewable energy — which included Tolentine — for the Solar Landscape training program, and even offered its campus as a home base for the course.
The program, originally set to launch in mid-March, was designed to consist of an in-person, 40-hour classroom portion, followed by 40 hours of fieldwork. But in the wake of COVID-19-related stay-at-home orders, Solar Landscape was forced to pivot to an online platform for its classroom portion. The fieldwork portion has been put on hold, since the Department of Labor has halted all work-based learning programs due to the pandemic.
Despite the impromptu turnaround, Gold says the online course has been running smoothly, and even has its advantages over an in-person setting. Students can access the modules at any time, allowing them to take the course at their own pace. But a live instructor is also available at set times for those who wish to ask questions and receive one-on-one feedback.
"We keep wondering, 'Will we keep doing this this way, even after life resumes?'" Gold says. "I think it works for students, having the flexibility. Some of the guys in this recent group work landscape jobs in the summer time. This allows them to be able to participate, without having to be available 40 hours a week at a desk. So I could see us going into 2021 this same way."
But a virtual version of the course also has its cons. Installing solar arrays is labor-intensive; it involves climbing on rooftops, lifting heavy panels, bolting rails, and connecting wires.
According to Tony Staynings, work-based learning coordinator at Edison Job Corps, those skills are hard enough to teach in a classroom, let alone a virtual one.
"Each of us have different learning styles," Staynings says. "When you are in a business where you're installing, that's hands-on work. You can get online training to give you an understanding of the theory behind it, but sooner or later, you're gonna have to actually use your hands."
Gold says that those who complete the 40-hour, knowledge-based online course receive a letter of recommendation from Solar Landscape and go on to become more competitive in the solar field. While a fieldwork component of the course is helpful, it is not required to be hired at Solar Landscape or any other developer.
Still, Gold hopes that, once the Department of Labor resumes its work-based learning programs, Solar Landscape can invite those participants back to complete the 40-hour fieldwork course, making them even more hireable.
While launching a training program during a pandemic is a case of terrible timing, COVID-19 has also made Solar Landscape's training program even more essential. It's providing a path to high-paying jobs for young people worried about starting their careers during an unprecedented economic crisis.
In the last decade, solar jobs have increased by nearly 160%, according to the U.S. Department of Energy.
"For the students who do well and work hard and get interviewed and can work, it's so game- changing," Gold says. "They're excited that the industry is growing at the speed that it is, and that they can be part something bigger."
Staynings agrees. In his role, he's seen first-hand the impact Solar Landscape's program has had on Edison Job Corps' participating students. He says it has offered them some hope in a time of uncertainty.
"In this day and age, we're having unprecedented challenges," Staynings says. "The program is able to help students grow and move through a very difficult time. And we're glad to be a part of it."
Tolentine is one of a handful of students so far who Solar Landscape hopes to hire. Once he completes the hiring process — which includes an interview and two-week trial period installing panels — he'll be ready to get Perth Amboy's projects off the ground.
He says that he enjoyed the online course, even though he's more of a tactical learner. And installing panels has been a fun way to get in his exercise, especially since his local gyms have been subject to the statewide shutdown.
"I've been interested in solar energy. I like that idea that it's renewable, that it's helpful," Tolentine says. "It's only gonna get bigger. It's going to be one of the main trades in the future, the way I see it."